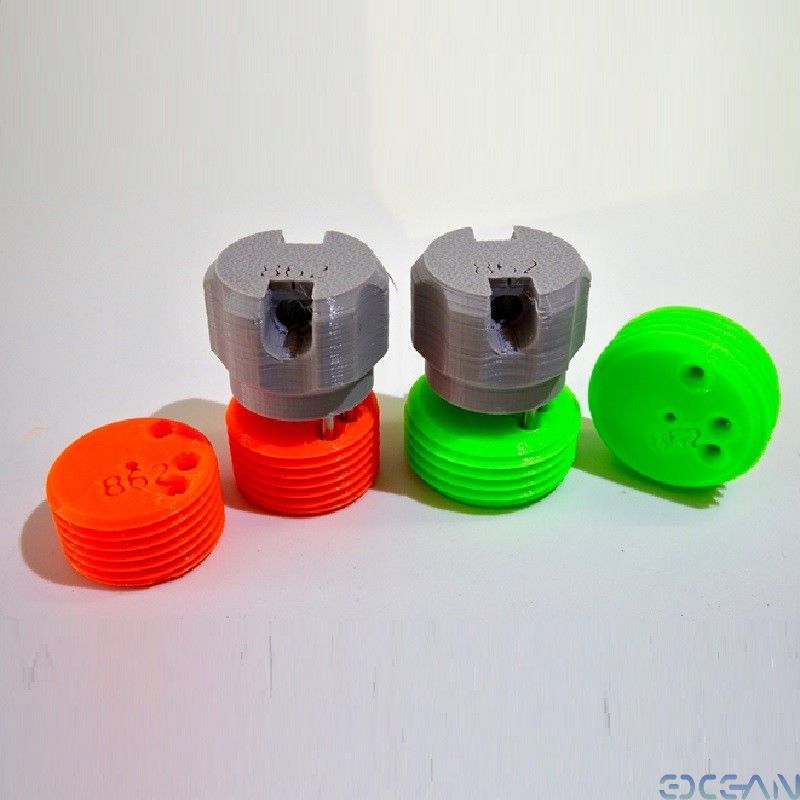  
2Bloc - Lock insert kit for M26 and DIN valves (premium kit)
2Bloc is a smart DIN and M26 insert system designed to prevent the unauthorized use of the gas inside your dive tank. 
Sometimes, when personal dive tanks are stored in a common area, some people may borrow and use by mistake or not, for various reasons, tanks that do not belong to them. 
The 2Bloc system (patent pending) allows to restrain the use of the tank to people owning the right key. It is also a safety device to prevent risk from using a tank with the wrong gases by people not trained to use them. 
Each kit has its own key pattern like regular house or car keys. The inserts have a low profile and can not be removed using a standard hex key. Additional keys can be ordered as well as individual inserts. 
When ordering, those kits can be custom-modified (at a small additional cost) with 6 letters to allow easier identification instead of key number markings (please also order the reference EOC-2BL-CUST). Each kit is sent in a plastic box with a unique identifier which is mandatory for ordering replacement keys. 
Each kit contains: 
- 2 keys,
- 2 DIN inserts,
- 2 M26 inserts.